If you have never shipped your car to another part of the country before, it can seem like a demanding process. In reality, shipping a car is quite easy. Those who have used auto transport services before likely enjoy how stress-free, timely, and convenient it truly is.
However, like any industry, there are misconceptions, or myths, floating around out there. This may have made you think differently about car shipping. We are here to set things straight about the car shipping process, specifically car transport rates as pricing is a major concern for many.
Here are 10 common misconceptions about car shipping. Many of these myths involve car transport rates and prices. Those that stray from the subject are meant to advise you how to make the best decision when it comes to selecting a car shipping company.
1. Go for the lowest price.
FALSE. Cheap does not always mean better. Some people may ask, "Why would you pay for a service that you could get at a lower price?". The problem with this way of thinking is that the experience you have often correlates to the price you pay.
You might end up paying a low rate to get your car shipped to its destination, but you are taking many risks doing so. Transporting your car with a company that offers cheap quotes is a red flag. You can not predict what condition your car might arrive in.
At the same time, you should not overpay for car shipping services. If a company is priced way above industry standards, it will be a waste of your money. There is a happy medium that you must find.
2. Working with a carrier is the only way to go.
FALSE. In the auto transport industry, there are transport carriers, and then there are brokers. There are also companies that handle both areas of business, but we won't make your head spin.
Many tend to think of brokers as the middleman. This can be one reason why people stray away from brokers. However, each company should be measured by the quality of services that they provide. Finding someone that you can trust with your car can be a difficult task. Therefore, you must ask questions to find out if the company is someone that you want to do business with.
3. A quote is based only on distance.
FALSE. Although distance is a primary factor, it is not the only factor that affects your car shipping quote. Other factors are of equal importance, as well. Some factors that will have an impact on your quote include: size of the car, pick-up/delivery times, carrier option, and season.
Vehicle Size: This component will be measured based on your vehicle make and model. A compact car will be less expensive to ship than a larger SUV because of the differences in size and weight.
Pick-up/Delivery: The cost of shipping a car from one location to another will rely on which shipping option you choose. If you require a guaranteed delivery date, then your car transport rate will be higher.
Carrier Option: The standard method of shipping is via an open auto transport carrier. However, you can upgrade to an enclosed carrier for an added fee.
Season: The summer is the busiest season for most auto transport carriers, because it happens to be when many people decide to move. Car shipping rates may fluctuate with the changing of the seasons due to supply and demand.
4. Removing tires and doors means a lower price.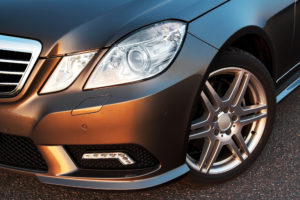 FALSE. It may seem strange to even mention, but it is something that we need to address. Some people may have questions. Will you get a lower car shipping quote if you remove extra items, such as hubcaps, spare tires, or doors? The answer is no.
The weight of your car is important when transporting your vehicle, and therefore, when calculating a car transport rate. However, it will do no good to remove these "standard" items, as they are already calculated into your quote.
It is important to remove all personal belongings from your vehicle before transport. This is for safety and insurance purposes. Failing to do so could lead to added fees or unwanted delays.
5. Open carriers are not safe.
FALSE. Although enclosed carriers are recommended for classic and luxury vehicles, open carriers are suited for most all vehicles. It is true that enclosed carriers provide more protection, but this is because of their design. They are built to protect the cars they carry from a wide range of weather and road elements.
Just because enclosed carriers provide a higher level of protection, this does not deem open carriers unsafe. Open carriers are the most popular method of shipping a vehicle from one location to the next. Therefore, safety is of the utmost importance. You can be rest assured, whichever option you choose, your car will be safe.
Learn more by reading Understanding Your Options: Open Vs. Enclosed.
6. You can only ship cars that run.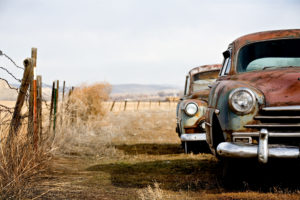 FALSE. Maybe, you are currently working to fix up a car or need to ship a car to a mechanic you know out of state. If you have an inoperable car, there are options available to you. Some companies may not offer this auto shipping service because of the equipment and manpower that is required.
When it comes to National Dispatch, we ship a wide range of cars. It does not matter if the car is operable or inoperable. You may be wondering how inoperable car shipping compares in pricing. It is slightly more expensive due to the equipment needed for a successful and safe transport.
7. Door-to-door delivery is expensive.
FALSE. When it comes to getting your car delivered, you have two main options. You can choose to go with terminal-to-terminal auto transport service or door-to-door auto transport service. With terminal-to-terminal car transport service, your car will be shipped to a pickup center near your home or business. On the contrary, door-to-door service involves delivery directly, or as close as possible, to your home.
Most people would prefer door-to-door car transport service, because it is more convenient and saves on mileage. However, some think that it is costly. The best way to measure how expensive a quote will be is to get a car shipping quote directly from the auto transport company.
8. It is difficult to get a quote.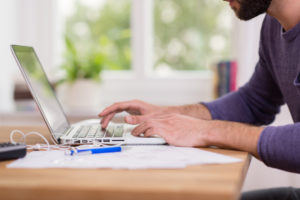 FALSE. When it comes to National Dispatch, this just isn't true. We make it very easy for potential customers to get a car shipping quote for several reasons. One reason is because consumers are looking for a company to make their life easier, not harder. They do not want to have to jump through hoops to get a car transport rate. Second, we have nothing to hide. We stand behind our high-quality services and affordable prices.
Why shouldn't it be easy for people, like you, to get a quote in seconds? Unlike many of our competitors, we do not require any personal information, so you do not have to worry about any pesky phone calls or emails. It is a 100% hassle-free car transport rate.
9. A quote is a guarantee.
FALSE. It is important to point out that the rate that you get on the website is not a guarantee of the price you will pay. Why not? Say you got a quote last March, now it is approaching January and you decide to call up the company for auto transport services. It is possible that rates may have not changed between now and then (almost a year). However, it is also possible that rates may vary.
It is best to request a quote. If you are happy with the price, contact the company to find out more and book auto transport services, soon thereafter. Before signing any contracts, make sure you understand your payment obligations. Are there deposits? Are there hidden fees? Make sure there are no surprises for the best experience, possible.
10. All car shipping companies are the same.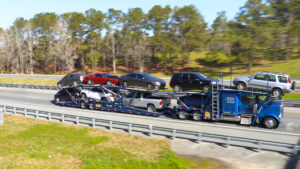 FALSE. Just because all car shipping companies essentially do the same thing (get your car from one part of the country to the other), it does not mean that there is no difference between them. Like in all industries, companies vary. You will find thousands of auto transport companies. However, you are tasked with the job of finding one that will not disappoint.
At National Dispatch, we ensure that your car will reach its destination in a safe manner. We believe in treating your car as if it were own. This means with the utmost care and attention. You never have to worry about anything. This makes car shipping a truly stress-free experience.
How To Get Instant Car Transport Rates
Using An Online Quote Calculator
With today's technology, it has become even more easier to find what you are looking for online and in just a matter of seconds. Instead of emailing or calling a company, you can get what you need at the click of a button. If you want to know how much it will cost you to fly round-trip from New York to Florida, you can find that information online. This is true of the auto transport industry, as well.
You can find information on the company's website regarding what services are offered. To stay in tune with today's technology, most auto transport companies have car shipping calculators. This is a form that requires some information from you in order to receive a car transport rate.
While all car shipping calculators may appear to be the same, like companies, they can be quite different. How is National Dispatch different from other leading providers in the industry? For one, our quotes are completely instant. There is absolutely no waiting around for your results. Second, our car shipping quotes require no personal information. That's right! No phone number. No email. Don't worry. It's hassle-free. When you are ready to book services, we are ready to assist you.
Steps To Requesting A Free, Instant Quote
Let's walk you through the steps of how you get a quote from our website.
On any page of our website, you will find the 'Get An Instant Auto Shipping Quote' box. You will see that 4 fields of information is required to proceed to the next page.
Vehicle Make
Vehicle Model
Pickup Location (City and State or Zipcode)
Delivery Location (City and State or Zipcode)
Once you have filled out that information and pressed 'Show Results', you will be instantly redirected to see your free car shipping quote.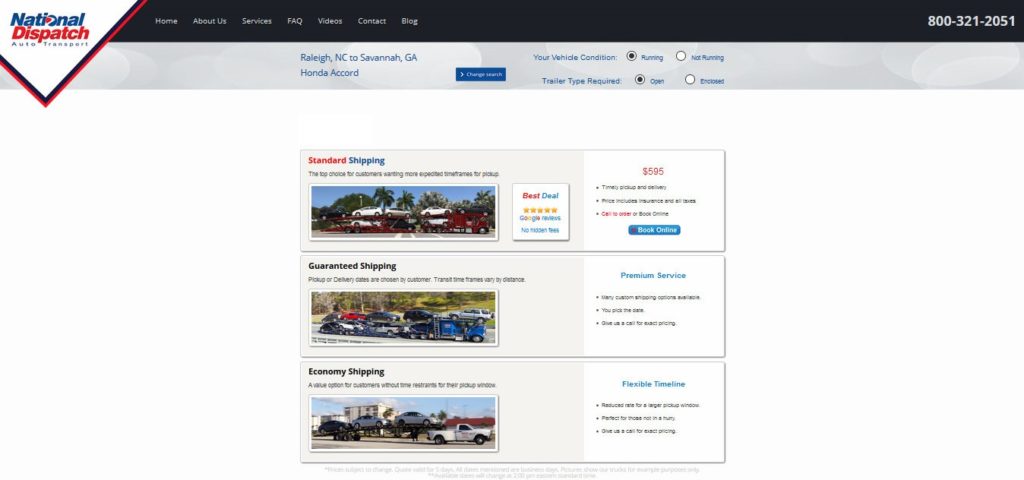 As you can see, some options are preset for you (Running Vehicle, Open Trailer, and Standard Shipping). These can be changed without switching screens.
Contacting An Agent
Another way that you can get an instant car transport rate is to call the number listed on the company's website. This will connect you with an auto transport representative. This is also a excellent option if you have additional questions about the car shipping process. Call to speak with one of our agents today at 800-321-2051. We also have a chat feature on our website as an alternative form of communication.
Emailing The Company
Most of the time you can find detailed information about auto transport services on the company's website. If you cannot find what you are looking for, you can send an email. Keep in mind that email is a slower form of communication, especially if you are contacting outside of regular business hours. If you are looking to get a quote immediately, then you will want to use the online quote form.
National Dispatch
At National Dispatch, we are committed to providing our customers with a wide array of auto transport services to choose from, setting affordability and high quality as our standards. We understand that we are shipping more than just cars. We are shipping for YOU! This is why we have designed services that are both convenient and user-friendly. You will select the services that best fit your needs and budget. You can count on us for the best auto shipping experience possible. Simply fill out the quote form at the top of the page for your free, instant quote or call us at 800-321-2051.