Coast To Coast Car Moving & Moving In General
Are you planning on moving from east coast to west coast or vice versa? Moving from one side of the country to the other can be quite the challenge. It is completely normal to feel nervous, anxious, or stressed over the experience. You must organize and pack up all your belongings. In addition, you must decide on the best way to get all your possessions to your new home, safely and affordably.
The best way to enjoy a hassle-free move from coast-to-coast is to use the moving tips and steps listed below and work with one of the best nationwide car shipping companies in the industry. National Dispatch provides superior service at an affordable rate to all individuals wishing to relocate anywhere in the United States.

Finding The Perfect Home Across The Country
One of the first steps in any move is finding a place to call home. There is much to consider before making the big purchase. Here are a few tips to keep in mind:
Look to the future.
Where do you see yourself five years from now? What about ten years from now? Are you looking for a temporary home or a permanent residence? You may be moving because of a job or due to retirement. Every person's situation is different. Consider the time and effort involved in relocating to a new home. If you do not intend on remaining at a location for very long, think about renting. It would mean an easier move when the time comes.
Find a home to grow with you.
Maybe, you have hopes of starting a family in the near future. On the other hand, you may need to house your elderly parents. If you cannot afford a home that suits your growing needs, then purchase one that allows for expansion. Being able to see the bigger picture will greatly aid you in the home-buying process.
Consider your lifestyle and personality.
Look for a home that meets not just your needs but your wants, as well. There are many different types of homes, including condominiums, townhouses, single family homes, and apartments. Not everyone prefers the same type of home. Consider your personality and how you would prefer to live. Ask yourself these questions:
Do you own a pet? When you are a pet owner, you must also take into consideration the happiness of your animal. An apartment or condominium may not provide ample space for a large dog to run around.
Would you prefer a lawn? One downside of owning a home is the upkeep and maintenance involved. If you do not mind mowing the grass, then a house will suit your lifestyle. On the other hand, if you hate the thought of doing yard work of any kind, another style home may better suit your needs.
Do you prefer your privacy? Sharing a wall with a neighbor is not for everyone. Some people prefer their space. If you can not handle the possibility of noisy neighbors, then an apartment may not be the home for you.
Research the neighborhood and community.
When you move to a new city, you will see differences in the cost of living, climate, employment rate, safety, and culture. Researching the area you intend on moving to can help prepare you for the big change. If you can visit the location, then you will be able to explore, firsthand, and decide on a location you wish to reside in. This may not be possible, though, because cross country moves are quite far. Take into consideration the schools, medical care, and recreational activities in the area.
Purchase a home within budget.
Calculate your monthly expenses and income. Then, set a budget for finding a home within a certain price range. This way you know what you are comfortable paying for a house and what you can afford financially. Remember to calculate for car moving costs, general moving costs and future expenses, as well. If you intend on buying a fixer-upper, estimate the total costs to renovate the property. Remember that housing costs vary by community, neighborhood, and region.
Be reasonable.
There is nothing wrong with being picky during the home buying process. However, if you are shooting down home after home or not even considering a property, you may be missing out on your dream house. You may have limited options if you decide to be too choosy. It is important to keep an open-mind during the home-buying process. That does not mean settling for a home that you will not be happy in.

Moving A Car Coast-To-Coast
A coast-to-coast move is one of the most difficult moves to undergo due to the distance. Moving from New York to California is nearly a 3,000 mile journey through multiple states. It will involve several days in the car, driving from east coast to west coast. What if there was an alternative option available? Well, there is.
Rather than driving, many home movers choose to transport their car using a professional auto transport company. It is a safe, fast, and easy form of transportation that will save you time. The steps to shipping your vehicle using a long-distance car shipping company is easy. It will involve: Doing Your Homework, Choosing Auto Transport Services, Requesting A Quote, and Preparing A Vehicle For Transport.
Find The Right Car Moving Company – Doing Your Homework
There are thousands of auto transport companies to choose from, and it is up to you to pick the right one for the job. You can not trust your car with just any car moving company. It is important to find a reliable company that you will be comfortable handing your keys over to. This is accomplished through proper research. Check out the company's online presence to ensure that they are reputable. Before hiring a company, be sure that they are licensed, insured, and bonded. Look around the company's website, and call to speak with a representative. You can get any of your questions answered, regarding deposits, insurance, and rates. Learn more information about finding a car moving company.
Choosing Car Moving Services
Once you have found a reputable company, the next step is to determine the services you will need to transport your vehicle. At National Dispatch, we offer an extensive list of services to meet the unique needs of our customers. Here are some of the services that we provide:
Door-to-door moving: Our drivers will deliver the vehicle directly to your home, as long as conditions permit. This makes auto transport an easy and convenient option.
Open car moving: If you are looking to ship your family car, truck, van, or SUV, you will likely use this method. It is the most popular form of transportation, as it is affordable and safe. The vehicle will be transported on an open-air carrier, which is capable of hauling up to nine cars at one time.
Enclosed car moving: If you want your car to be shielded from the weather and outside elements, then shipping via an enclosed carrier is the way to go. However, this option is more expensive than the alternative. Enclosed auto transport is often used when you have a car that…

Does not get driven often
Is stored in the garage
Has an expensive paint job
Is a luxury, sports, or classic model

Non-running car moving: To transport a vehicle that is inoperable, special equipment is required. At National Dispatch, we have the means to ship your car, even if it does not run.
Top-loading: Top-loading is an additional service many auto transport companies offer their customers. It means that your car will be positioned on the top level of the transport truck. This reduces the chances of any encounters with dirt, dust, and grime during transit.
Guaranteed shipping: Are you shipping on short notice? Do you need your car as soon as possible? No need to worry with our guaranteed shipping option. This option may cost more than our other methods, but it is well worth the cost due to the added convenience.
Requesting A Car Moving Quote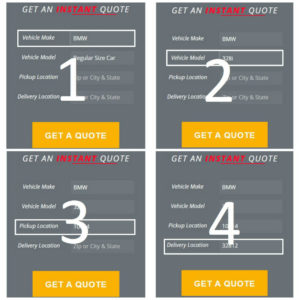 Move your automobile safely and quickly with National Dispatch. It all starts by requesting a car moving quote on our website at https://www.nationaldispatch.com/ or by calling us at 800-321-2051. We offer an easy-to-use quote calculator that requires absolutely no personal information. Here is how to get your free quote today:
Enter your vehicle make.
Input your vehicle model.
Enter your pickup location (Zipcode or City and State).
Input your delivery location (Zipcode or City and State).
Get a Free, Instant Quote.
Car moving rates differ throughout the industry. There are numerous variables involved in calculating a quote, including distance, location, type of vehicle, and services. We make it as simple as possible to receive a rate by only asking for four fields of information. Learn more information about car shipping rates.
Preparing A Car For Moving
Before loading your vehicle onto the carrier and transporting it to its destination, there are some preparation procedures to take care of. Here are some tasks that should be accomplished before the driver's arrival:
Remove all belongings from the car.
Clean the exterior of the vehicle, so that an inspection report can be completed.
Keep 1/4 to 1/2 tank of gas in the car.
Remove all toll road stickers.
Conduct necessary car maintenance.
Remove luggage, bike, and ski racks.

Coast To Coast Helpful Moving Tips
There are many difficulties that come with a long-distance move. We want your move to go as smooth as possible. Therefore, we have assembled a few tips to aid you in the process. Check them out, below:
Do not do everything, yourself. When it comes to a local move, you can complete a lot of the tasks on your To-Do list on your own. If you are moving down the street, you can even transport your belongings to your home, yourself. A coast to coast move is different. It is difficult to come back to get an item if you forget it. Furthermore, it is a long journey to make alone. Hire professionals to do the work for you. You won't regret it.
Get rid of stuff you don't want or need. Sort through your belongings. Pack only the items that you see yourself using in the future. This will be a huge space-saver in your new home. In addition, it means less stuff you have to haul from Point A to Point B. If you choose to host a yard sale, you could make some extra bucks to put towards moving expenses.
Protect your valuables. Invest in proper packing materials. This means getting strong cardboard boxes that can handle the long move. You also want to be sure that each item is protected with newspaper, bubble wrap, packing peanuts, etc. You could even use items around your house, such as blankets and towels, to wrap breakables. It does not matter, so long as everything is protected in the move.
Start early. A move is stressful, but anyone can feel a little more stressed when under pressure. Do not put everything off until the last minute. This includes packing, making travel arrangements, and booking auto transport.

Long-Distance Car Move With National Dispatch
Moving your car across the country does not have to be a challenge, and it does not have to be stressful. National Dispatch offers insured, licensed, and trackable nationwide car shipping services. By choosing to transport with us, you will receive peace of mind. Your vehicle will be in the best hands and will be delivered safely and quickly to its destination.
We cater our services to meet your needs. We have shipped vehicles for vacationers, military personnel, construction teams, corporations, and more. In addition, we transport all types of automobiles, including family cars, trucks, SUVs, vans, and motorcycles. This would extend to include luxury, classic, and exotic models, as well. We can even transport a non-running car.
If you have questions regarding our auto transport services, we encourage you to contact us at 800-321-2051. We also offer a free, instant car shipping quote on our website at https://www.nationaldispatch.com/.