Omaha Car Shipping Services
Has it always been your dream to move to Nebraska? Maybe, you want to be surrounded by some of the best views in the country. Nebraska is a great place for those who love getting out in the great outdoors. There are numerous outdoor activities at your fingertips, including hiking, biking, swimming, fishing, hunting, and boating. If you are still looking at cities to move to in the area, Omaha, Lincoln, and Nebraska City are probably on your list.
Omaha, located on the Missouri River in Nebraska, is home to nearly half a million people. Many are drawn to its pioneer history and rich heritage. Many famous individuals were born here.
Omaha has a lot to offer its residents, so no wonder people are moving to the state from all over the country. Before embarking on a move, make sure you are well-prepared. Save yourself time, energy, and money by hiring an auto transport company to ship your vehicle to your new home.
Learn more about Nebraska Car Shipping.
Why Ship Your Car To Nebraska?
Car shipping definitely has its advantages over driving. Below, you will find just a few. To learn more, read 4 Key Benefits Of Auto Transport.
Time-Saver
Traveling by car, not matter the distance, requires time. If you are traveling across the country, you can expect to spend a couple of days getting to your destination. Car shipping is a faster option. Instead of spending hours behind the wheel, you can hop on a plane, allowing you to get to your destination much quicker.
Spares Wear and Tear
One down-side of driving is that it puts miles on your vehicle. The more miles you put on your car means the more need for maintenance and tire rotations. Car shipping spares your car unnecessary wear and tear. In addition, auto transport is the perfect option for classic car owners, as it will help prevent depreciation. Check out our enclosed auto transport option if you are concerned with the weather and road elements while shipping.
Saves You Money
Many think that auto shipping is out of their price range. However, it may be more affordable than you think. Consider all the expenses that you will incur while driving. You must spend money on food, gas, and hotel stays. It can quickly burn a whole in your wallet.
Moving To Omaha
Omaha is a great place to live, work, and play. Here are a few things that you might want to know about your future home.
Education
Omaha has a great school system, from elementary extending to its higher education options. It also has one of the highest graduation rates in the United States, above the national average. If you are looking for colleges and universities to attend in the area, there are plenty of options to choose from. Some common choices include Creighton University, University of Nebraska at Omaha, and College of St. Mary.
Food
This is the city for foodies. The number of restaurants in the area is extensive. In addition, there is a wide range of options, represented from different countries. You can even get delicious home-cooked meals. Since Nebraska is known for its agriculture, there are also many great farmer's markets that you will want to check out. These markets offer locally grown products, such as produce, baked goods, meats, and cheese.
Friendliness
The city and the people in it are all-around very welcoming. In the past, Omaha has received recognition for being one of the friendliest cities in America. The neighborhoods are known for their charm and beauty. Old Market is one such popular neighborhood, with cobblestone streets, along with places to shop and dine. Other locations you might want to check out include North Omaha, South Omaha, Central Omaha, and West Omaha.
Things to Do
There is no reason for boredom in a place like Omaha. There are plenty of things to do. Here are a few favorite attractions from locals and visitors:
Henry Doorly Zoo and Aquarium – If you love animals, then this is the place for you. The zoo spans over 100 acres and is home to a variety of species. Some of the most popular exhibits include African Grasslands, Alaskan Adventure, Desert Dome, Lied Jungle, Sea Lion Pavilion, and much more.

Lauritzen Gardens – This botanical garden and arboretum is a popular attraction. The arboretum represents plant species from a variety of communities. The exhibits change with the changing of the seasons, so it is a great place to visit any time of the year. There is also a cafe and gift shop.
Durham Museum – This museum is located in downtown Omaha. It was formerly known as the Durham Western Heritage Museum, because it is devoted to the preservation of Western history and culture.
Omaha Children's Museum – The museum is a nonprofit organization. They are dedicated to providing activities and exhibits that engage young minds and inspire imagination. Some of their permanent exhibits include Tinker Lab, Walker Tire and Auto Service Center, Sandy's Splish Splash Garden, Art Smart Center, and more.
Fun-Plex – Fun-Plex is an amusement park. It features a wide variety of rides, including the only roller coaster in the state of Nebraska. If you have young children, Kiddie Island offers several options to suit their age group, as well. During the summer months, there is also a waterpark that offers fun days in the sun.
Request A Free, Instant Car Shipping Quote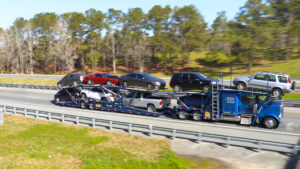 Do you need to ship your car to or from Omaha or the surrounding area? National Dispatch is a nationwide auto transport company with a company-owned fleet. We offer a free, instant car shipping quote on our website. No personal information is required. Fill out four simple fields of information: vehicle make, vehicle model, pickup location, and vehicle location. If you prefer to speak with an auto transport representative, call us at 800-321-2051. Our staff is more than happy to answer any questions you might have and further explain the car shipping process. You can also chat with us on our website.