Benefits Of Using Auto Transport
Our goal, at National Dispatch, is to make our customers' lives as simple as possible. We understand that your car means a lot to you and that the decision to transport is not an easy one. However, there are many benefits of shipping your car rather than driving it across the country. Check out the infographic below to see why car shipping is the better option.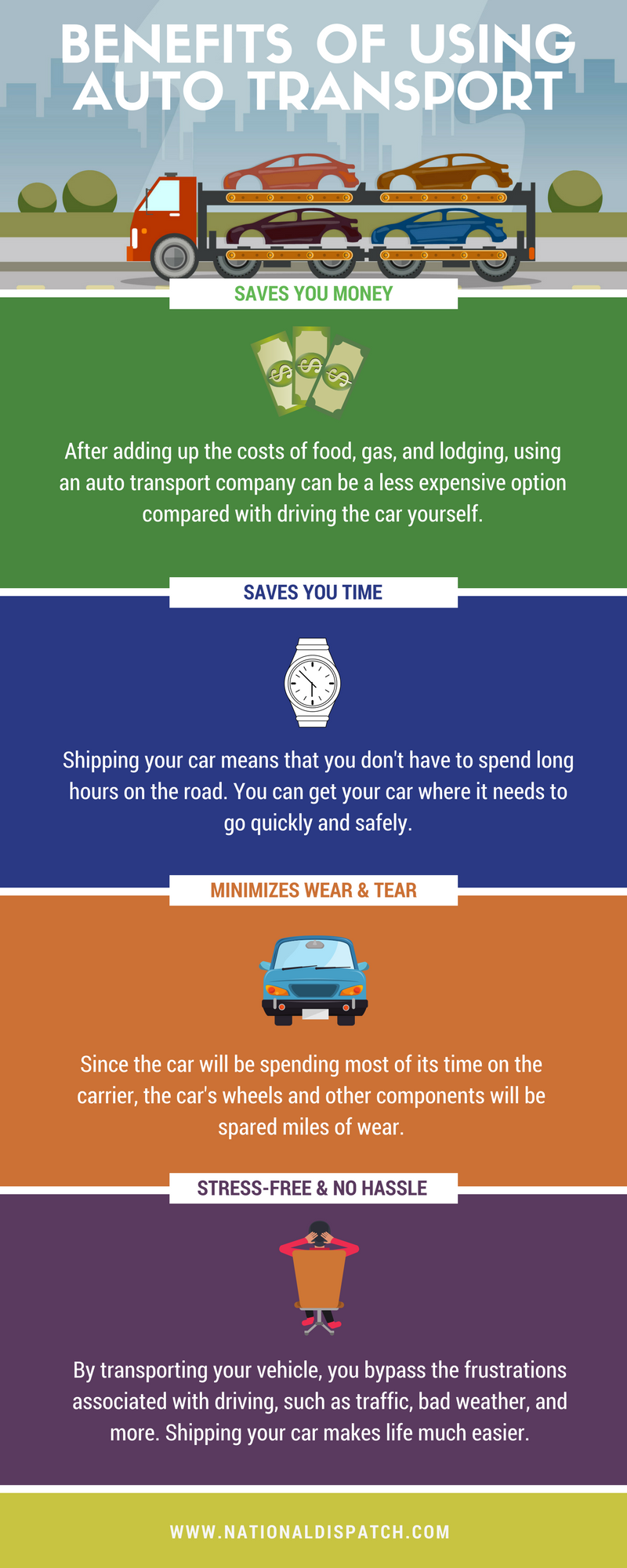 You Can Save Money.
This may come as a bit of a surprise, but shipping a car is not as expensive as you may think. The price depends on a variety of factors, not only distance, but also on vehicle size, location, and services selected. Driving across the country can put a hole in your wallet. You will have to make frequent stops to fuel up and will need to rest along the way. Do not forget about your food expenses. When putting it all into consideration, you will have to spend quite a bit of money on lodging, gas, and meals. Doesn't shipping your vehicle sound like a better option?
You Will Save Time.
One of the main reasons people choose to ship their car is there just doesn't seem to be enough hours in the day. With a hectic schedule, auto transport makes for the easier option. Driving across the country can take up to a week to complete and requires you to spend hours at a time in the driver's seat. All you must worry about with auto transport is being there when your vehicle is delivered. During the delivery process, you are a free to sit back and relax. Enjoy that much shorter plane ride!
The Car Will Be Spared Wear And Tear.
Shipping your car means that it will be placed on either an open-air or enclosed auto carrier. This saves the vehicle unnecessary wear and tear from long road trips, such as traveling from New York to California. Auto transport spares the tread on your car's tires. You will also no longer have to worry about potential road hazards. Car shipping provides the perfect solution for classic car collectors, as these priceless antiques deserve the best of care.
It Makes For A Stress-Free Experience.
There is no need to pull your hair out in frustration. You will not be dealing with any of the annoyances associated with driving, such as stand-still traffic and constant pit stops. The auto transport process is easy from start to finish. The driver will come directly to you, if conditions permit. Your car will be transported safely and quickly to its destination. All the hard work is done for you. Shipping your car is the best option, if you are moving a few states away or across the country.
Do not take our word for it on the countless benefits of car shipping. Go to our website at www.nationaldispatch.com to learn more about the auto transport process. If you are interested in our auto transport services to and from anywhere in the United States, fill out our free online quote form. You will receive a free quote in seconds without any personal information required. You can also call us at 800-321-2051.