West Virginia Vehicle Transport Services
When you think of the Appalachian Mountains, West Virginia might come to mind. When you are standing atop one of the peaks, you will discover some of the most breathtaking views you have ever seen. The landscape is especially beautiful come fall, when the leaves are changing colors. If the views are not enough to sway you, then touring an underground mine or taking a train ride might strike your interests.
If you enjoy the great outdoors, then West Virginia is the place for you. After you visit West Virginia, you may choose to make it your permanent home. When you are moving to a new state, there is a lot to do. If you live across the country, then a long drive is in your future. What if there was a better alternative, one that was safer, faster, and easier? Well, there is. Ship your car with National Dispatch.
National Dispatch offers a variety of vehicle transport services to meet your unique budget and timeline. Whether you are undergoing a corporate relocation, vacation, or residential move, we can transport your car to its destination.
Here are a few of the vehicle transport services that we offer.
Open Auto Transport: This is the most popular method of shipping a car. With open auto shipping, the car will be loaded onto an open transport carrier. These carriers are capable of hauling up to nine vehicles at one time. Due to the construction of the carrier, the car will be exposed to the weather and road elements.
Enclosed Auto Transport: With this method of auto transport method, the car will be loaded onto an enclosed car carrier. Enclosed auto transport is recommended for those who own classic, exotic, sport, or luxury vehicles. This carrier provides more protection against weather and road element.
Door-To-Door Auto Shipping: This shipping option provides added convenience. Instead of having to drive to drop off and pick up your car, it will be delivered directly to your home. This makes your life much easier and cuts out on any unnecessary driving.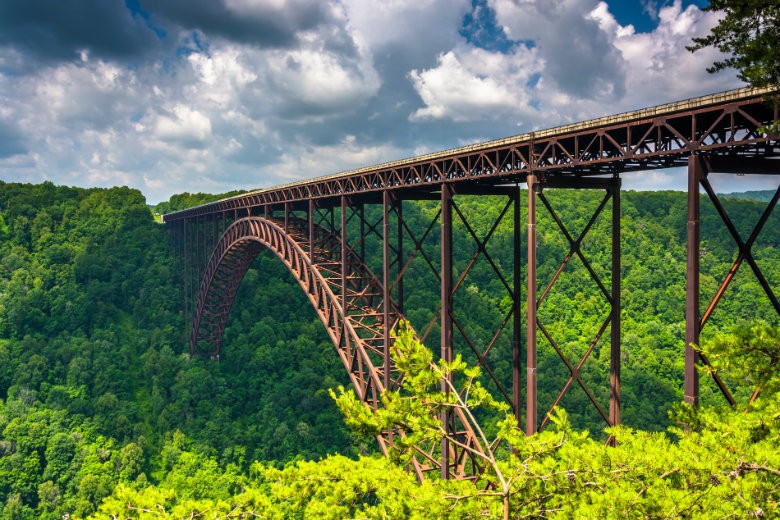 Exploring West Virginia
Although West Virginia does not contain many large cities, it is still a top destination attraction. We have included the top cities in West Virginia to check out, along with the best things to do there.
Charleston
Charleston is West Virginia's capital city. With over 50 thousand people residing in the state, it is West Virginia's most populous state. Being that it is on the smaller size, it offers residents and visitors a small town feel. However, that does not mean that it lacking in attractions. Charleston has many parks, museums, and shops that you can visit. Below are some of the most popular attractions:
West Virginia State Capitol: Previously located in Wheeling, the state capitol building is visually striking for its golden dome.
West Virginia State Museum: This museum is the perfect place to learn about art, history, and culture.
Clay Center: This center is dedicated to the performing arts, as well as visual arts and the sciences.
Learn more about Charleston.
Morgantown
Morgantown is known for being the home to West Virginia University. If you are looking to further your education, the university offers a variety of undergraduate and graduate programs. If you are a sports fan, you can attend on the college games at Milan Puskar Stadium. There is something for everyone, in terms of amenities. Below are some of the most popular attractions:
Core Arboretum: This is a 91-acre botanical garden owned by West Virginia University.

Morgantown History Museum: The museum is a nonprofit institution and also the first city-sponsored museum in the area.

Art Museum of West Virginia University: The museum's collection includes paintings, prints, sculpture, and ceramics.

Learn more about Morgantown.
Huntington
Huntington is located in Cabell County. It is a popular destination, because it is situated on the Ohio River. Huntington is home to many large companies and institutions that provide jobs for the city's residents. Some of the top employers include Marshall University, Cabell Huntington Hospital, St. Mary's Medical Center, Amazon, and more. The movie, We Are Marshall, was even filmed in Huntington. Be sure to check out all the attractions that the city has to offer. Below are just a few:
Huntington Museum of Art: This is largest art museum in the state that features paintings, sculptures, prints, and drawings of American and European origins.
Camden Park: This 26-acre amusement park has a variety of rides and attractions, even a wooden roller coaster called the Big Dipper.
Museum of Radio and Technology: This is the only museum of its kind within the state. One part of the museum is dedicated to the West Virginia Broadcasting Hall of Fame.
Learn more about Huntington.
Wheeling
Wheeling is the perfect place to visit and live. With its superior school system, it makes a great place to raise a family. There are higher education options available, as well, including West Liberty State College and West Virginia Northern Community College. There is always something to keep you entertained. You can attend one of the numerous fairs and festivals held throughout the year. Residents also enjoy hiking, biking, golfing, skiing, and kayaking. Here are a few more places you might want to check out:
The Glass Museum: At the museum, you can view numerous glass displays and also see demonstrations by glass cutters, decorators, and blowers.
Kruger Street Toy and Train Museum: This is the place to relive your childhood. View classic toys and model trains.
Oglebay Good Zoo: The zoo is home to over 50 species, including those that are rare and endangered.
Learn more about Wheeling.
Beckley
Who wouldn't want to live in Beckley? Beautiful landscapes of forests and farmlands span through the city. If you love snowy winters and vibrant fall colors, then this is the perfect place for you. If you want to venture outside the city, it is easy with its system of highways and interstates. Below, you will find some of Beckley's top attractions:
Beckley Exhibition Coal Mine: The historic coal mine's purpose is to educate the public on coal mining.
Tamarack: This arts and crafts facility allows visitors to shop, dine, or create their own piece of work.
Grandview State Park: At this park, you can hike along the trails, picnic, and witness breathtaking views.
Learn more about Beckley.
Are you moving to West Virginia? Are you looking for a reliable auto transport company to ship your car? Well, look no further. National Dispatch offers vehicle transport services to and from West Virginia. Request a free, instant vehicle shipping quote. No personal information is required. If you prefer to speak with an auto transport representative, call us at 800-321-2051.