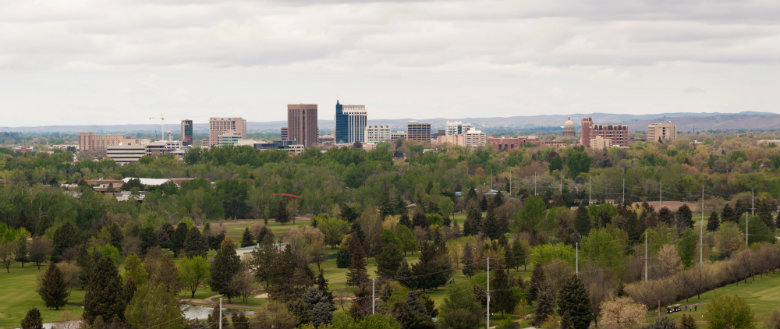 Idaho Car Shipping Services
The Gem State may be well-known for its potatoes, but did you know that there is much more to Idaho than our spud friends? Idaho is a place of serenity for most people. It has beautiful scenery and a rich history. Visit Idaho.
Whatever your reason for enjoying this wonderful state, there are several reasons you may need your vehicle. Check out our Infographic on Idaho Car Shipping.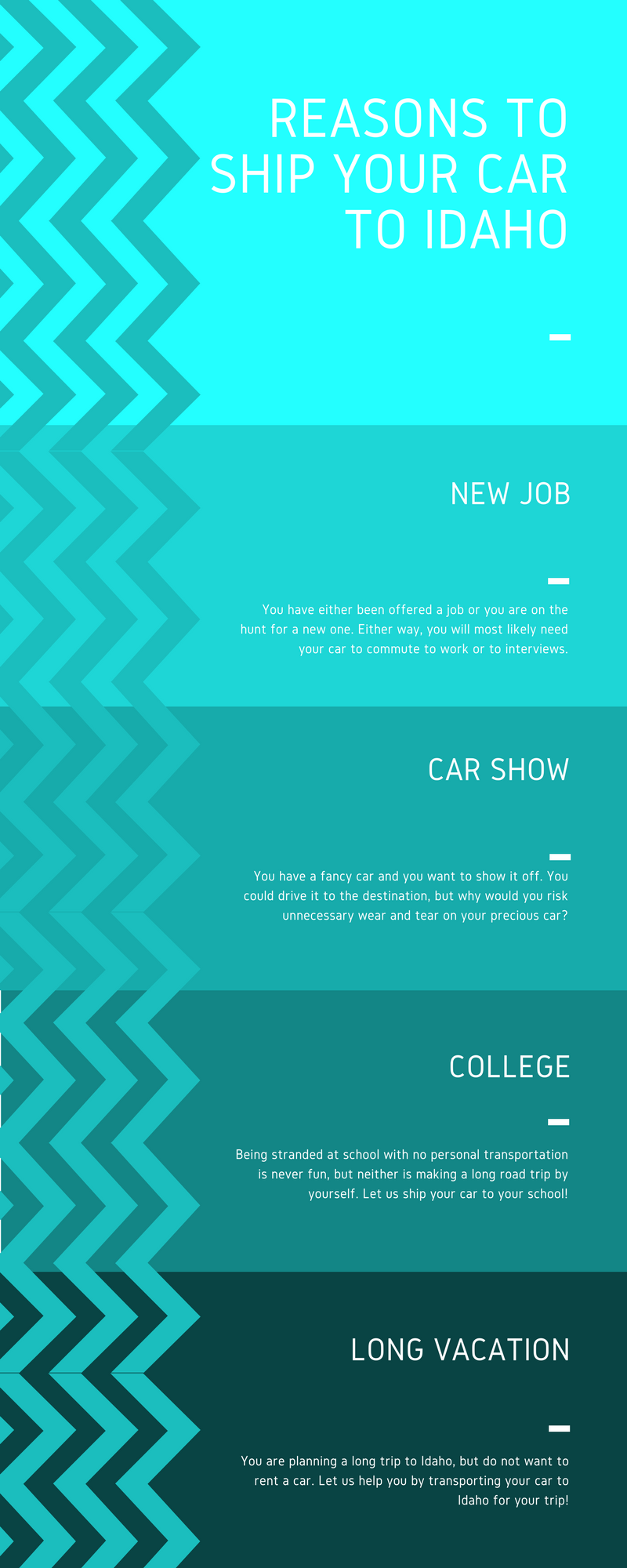 Moving To Idaho
No matter how long you plan on staying in Idaho, whether a week or a lifetime, there are some great places that you will want to be sure to check out.
Sun Valley
Sun Valley is known for having the best resorts that celebrities visit in the winter and summer months. It is a great place for skiing and snowboarding during the snow season. Guests can enjoy hitting the slopes on two mountains that provide snow enthusiasts of all abilities the opportunity to enjoy themselves. In fact, the Sun Valley Resort was the first resort to put in a ski lift for their guests. In the summer, adventurers can hike, bike, and enjoy the outdoors. The restaurant and bar scene in Sun Valley is also supposedly popping with delicious treats and a fun atmosphere.
Learn more information about Sun Valley.
Coeur d'Alene
Coeur d'Alene is a family-friendly place that offers a wide range of indoor and outdoor activities. It hosts several festivals, fairs, and even hosts monthly Art Walks where residents and guests can walk a seven-block area featuring seven art galleries. Downtown is hopping with over 100 merchants in just six blocks. The town is in a great location because not only is it a short jaunt to the airport, but within an hour radius you can go to several amusement parks, Spokane, or Sandpoint.
Learn more about Coeur d'Alene.
Craters of the Moon National Monument and Preserve
Located in Arco, Idaho, Craters of the Moon encompasses three major lava fields. It is known as a lunar landscape and was created by several volcanic eruptions between 15,000 and 2,000 years ago. Several astronauts have visited the park over the last few years to prepare for their lunar expeditions, because it allowed them to become educated on the type of terrain they would encounter on the moon. Not only can you hike the same paths that these astronauts did, but you can also clearly see the Milky Way Galaxy from Craters of the Moon. The park has been granted silver-tier International Dark Sky Park status, and the park staff ensures that the park's lighting is "night-sky friendly".
Learn more about Craters Of The Moon.
Old Idaho Penitentiary State Historic Site
For those who are ghost-hunters, this may be an exciting exhibition for only $6, for adults. In Boise, Idaho, an old 19th century prison has turned into a museum. Guests to the prison can take a tour and see old jail cells that are rumored to be haunted. On your tour, you can also see the cell blocks, solitary confinement, and the gallows.
Learn more about Boise.
Museum of Clean
In Pocatello, Idaho, be sure to check out the Museum of Clean. The goal of the museum is to present as many dimensions of clean as possible. The whole premise is that our lives revolve around clean and not just cleaning products. The focus of the museum includes clean air, clean language, clean water, clean art, and the list goes on. The quickest you should plan on completing the tour is an hour and a half. However, if you really like art and/or history, plan on staying at the museum much longer.
Learn more about Pocatello.
If you are in need of car shipping services to or from the Idaho area, let National Dispatch assist you. We offer an extensive list of auto transport services to meet your specific needs. We encourage you to request a car shipping quote using our online quote calculator. No personal information is required. If you prefer to speak with a car shipping representative by phone, contact us at 800-321-2051.