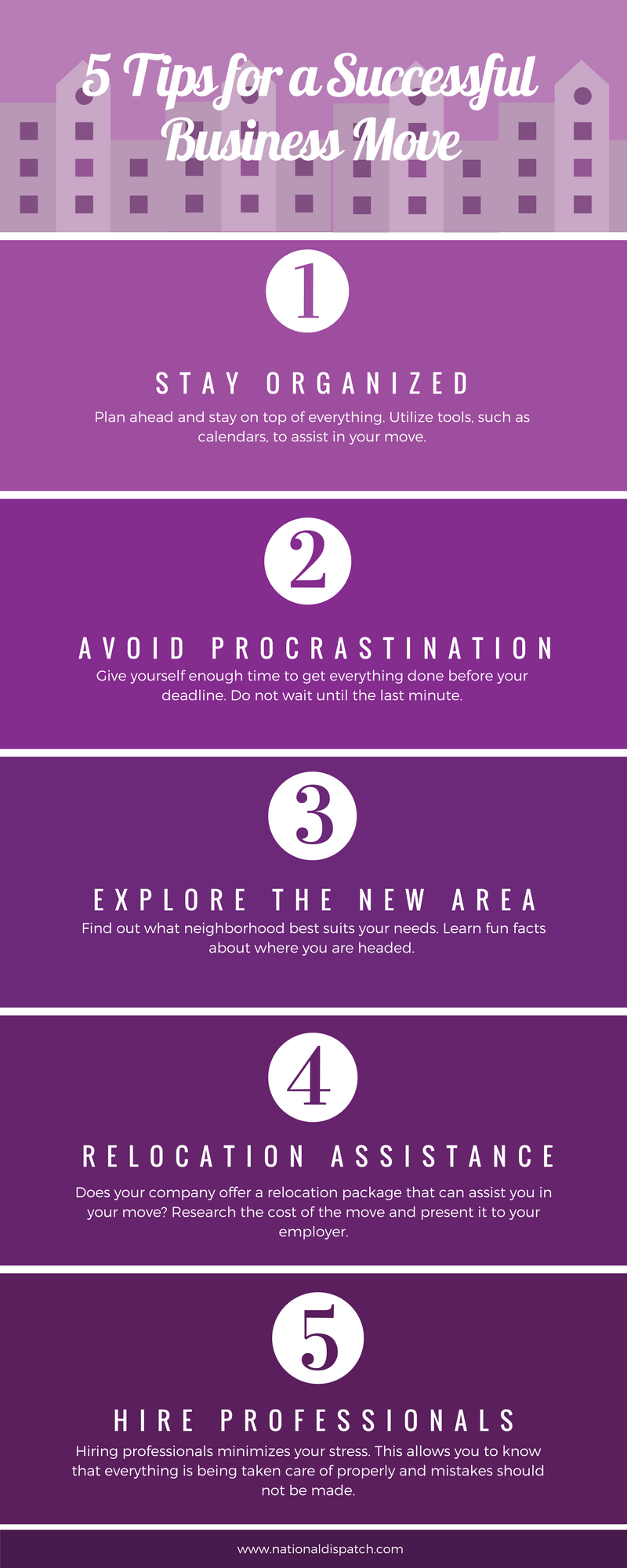 Infographic | 5 Tips For A Successful Business Move
Moving can be complicated and stressful, and a job relocation is no exception. We want your business move to be a positive and exciting experience, because it should be. For a smooth transition, it is important to plan ahead. Here's what else you will want to do from our Corporate Relocation Guide infographic.
1. Stay Organized.
This is crucial to ensure that your business move is an easy one. Stay organized by establishing a plan that outlines all necessary tasks that need to be completed. If you are a business manager, assigning tasks is one way to lessen the workload, and ensure that everything gets done in a timely manner. Utilize a business planner, notebook, or calendar to stay on top of what needs to be done so that nothing is forgotten.
2. Avoid Procrastination.
As soon as you learn about a move, you should begin working on the Checklist for Business Moves. There is a lot that must be done for a corporate relocation. You do not want to wait until the last minute to do everything. This will only leave you stressed and overwhelmed with a long To-Do list. It is never too early to start packing.
3. Explore.
When you are offered a new job, you will likely have many questions regarding the new opportunity. Many of which might be about your living situation. Before moving for a job, you should ask yourself:
What is the neighborhood like?
Where will my children go to school?
What is there to do outside of work?
What is the weather like?
How much does the average house cost?
To answer these questions and more, you can conduct research online. You might even want to consider visiting the city before moving permanently.
4. Look For Assistance.
You were chosen to be a part of this new team because of the experience, skills, and traits you possess. Your employer wants to see you succeed in your new position. First, you must make the transition into the new work environment. Check to see if your employer offers a relocation package to cover the expense of your move. This would cover much of your travel fees.
5. Hire Professionals.
When you are moving, hiring a professional auto shipping company can reduce your stress level, making your life much easier. You will have one less worry on your mind. Shipping your car with National Dispatch provides you with peace of mind, knowing that your vehicle is in the best hands. You do not have to drive hours to your destination. Instead, you can fly to your new home and have the vehicle delivered.
National Dispatch is a nationwide car shipping company with a company-owned fleet. Why ship your car with us? Not only do we offer a wide arrange of services to meet your needs, but we promise excellent customer service by our experienced auto transport professionals. We treat your car as if it were our own.
Request a free, instant car shipping quote using our online quote calculator. No personal information is required. If you prefer to speak with someone by phone, call us at 800-321-2051.